Kspace BABY
We have select parent & child classes available in 2023

-


Our famous Mummy & Me/Family class is back on Saturdays!




10.00am to 10.45am, 4 months to 2.5years only.




Contact us (click here) to book now for 2023!
3 months to 14 months
Parent & Baby Music/Movement/Sensory Class x 45 minutes
Watch how much fun you can with your baby!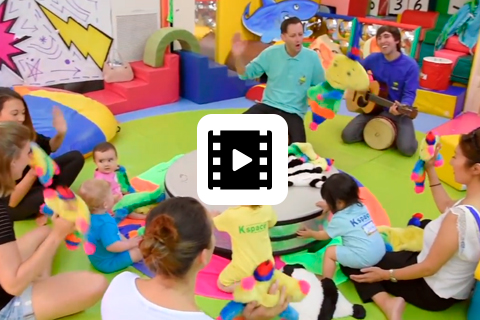 Kspace Baby Age Group
Kspace Baby is a class for:
Babies from approximately 3 months old
Wrigglers & crawlers
Babies who can stand unassisted but aren't yet confidently walking around
Kspace Baby Programme
The class is run by enigmatic teachers who have special 'baby whispering' skills! We always have a musician/artist/entertainer amongst our crew, and a very unique atmosphere. We encourage lots of parent/carer involvement and parent-child bonding.
The class includes:
Circle Times
Tummy Time
Communication enhancement
Themed songs & theme-based experiences
Sensory stimulation (parachute, bubbles, touch-blankets etc)
Shared social experiences (puppets, toys, movement)
Join us for our Family Circle on Saturdays -
weekend fun for mummy, daddy and extended family!!
Kspace Baby Materials
Textured fabrics and sensory mats
Colourful parachutes
Small shakers, baby sized instruments, djembes and noise-makers
Live music in each session provided by a range of talented teachers
Stimulating sounds and baby-friendly songs to develop early communication skills
Soft, squeazy toys
Loveable puppets
Specially screened room that can be darkened for a soothing effect
Screen for baby-friendly visuals
Bubbles
Percussion instruments
Books
Water play/pretend snow (seasonal props)
And much more!…..
Watch how much fun you can with your baby!