Broadway Dance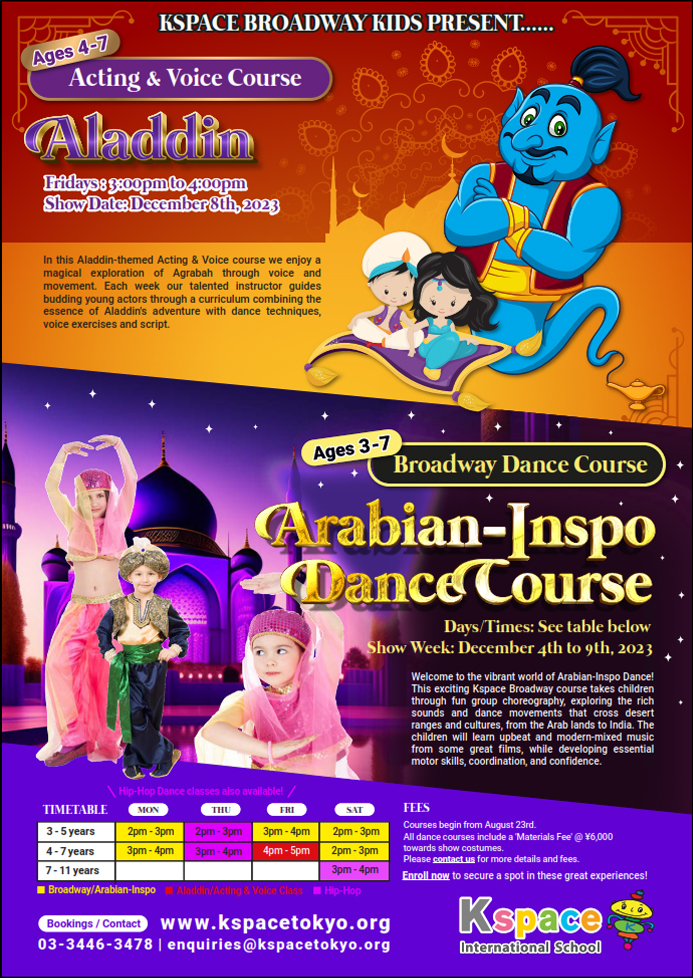 Broadway Dance: Arabian-Inspo Dance
---
Starts Soon! August 23rd, 2023
---
Show Week: December 4th to 9th, 2023
Broadway Acting & Voice: Aladdin
Click Here
---
Starts Soon! August 25th, 2023
---
Show Date: December 8th, 2023
Kspace Arabian-Inspo Dance Course (Ages 3-7)
Course Description:
Welcome to the vibrant world of Arabian-Inspo Dance! This exciting Kspace dance course is specially designed for children aged 3 to 7 years old, aiming to introduce them to the colourful and energetic world of dance styles, with music from the children's beloved film Aladdin, as well as other great sources. Through fun and engaging activities, our young Broadway dancers will explore the rich sounds and dance movements that cross desert ranges and cultures, from the Arab lands to India. The children will have fun learning upbeat and modern-mixed music from some great films, while developing essential motor skills, coordination, and confidence.
Course Objectives:
Introduction to Arabian Sounds: Children will be introduced to the captivating world of Arabic and Bollywood Inspo dance, which was featured heavily in the group dance choreography in the 2019 hit film, Aladdin.
Basic Dance Techniques: Children will be taught fundamental dance techniques, including body posture, footwork, hand movements, and facial expressions, to add flair and grace to their dance performances.
Rhythm and Musicality: Children will develop an understanding of rhythm and musicality as they groove to catchy Arabic and Bollywood inspired tunes. They will learn to synchronize their movements with the beats, enhancing their overall dance experience.
Choreography: Throughout the course, children will learn age-appropriate dance routines. These choreographed sequences will challenge and inspire them to showcase their creativity and storytelling abilities through dance.
Cultural Appreciation: As they learn various dance moves, students will gain an appreciation for Arab and Indian cultures and traditions. They will also explore the importance of cultural diversity and respecting different art forms.
Teamwork and Social Skills: Through group dance exercises and interactive games, children will develop essential teamwork and social skills. They will learn to collaborate with their peers, fostering a sense of camaraderie and friendship.
Confidence Building: As children master the dance steps and perform in a supportive environment, their self-confidence and self-expression will naturally grow.
Course Highlights:
Colorful Costumes: The children will have the opportunity to dress up in *vibrant costumes, allowing them to immerse themselves fully in the dance experience. NOTE* : Each course includes a mandatory Materials Fee and teachers may request foundation clothing pieces from home.
End-of-Course Showcase: At the conclusion of the course, parents of older students (groups for students age 4yrs+ - DOB based on August 31 2023) children will be invited to a lively showcase where our young dancers will perform their dance show.
Younger groups have a performance recording in costume, that is the edited into a mini-show video and sent to parents once complete.
Join us for this captivating Dance Course, where children will create cherished memories and experience the joy of dance in an atmosphere filled with laughter.