Phonics
Pre-Phonics
At Kspace, we believe that it's never too early to start cultivating a love of literature. Our Pre-Phonics programme uses a multi-sensory approach which includes activities such as clay play, sand writing, singing, letter painting, games and more!
If you want to see all the excitement for yourself, please come by for a trial class.
Beginning Phonics
This course covers letter-sound recognition and letter formation of lower case letters. The students will learn 2-3 sounds per week with a focus on blending into words (hearing, speaking, reading and spelling). The classes will begin reading leveled-books by the end of the semester.
Over the semester, children will gain confidence and speed, and grow into enthusiastic readers!
Students joining this class mid-semester are required to take a 1 on 1 assessment and may require private tutorials to catch up.
If you want to see all the excitement for yourself, please come by for a trial class.
Intermediate and Advanced Phonics
Our Intermediate and Advanced Phonics programmes extend students' letter-sound recognition with the goal of reading the 60 sounds in the RWI scheme with ease. The curriculum includes weekly spellings and vocabulary, grammar, and guided writing practice to help students communicate with expression, fluency and detail.
We use a leveled reading curriculum that progresses and challenges students weekly, based on their abilities and needs. Individual attention and partner work as well as group instruction meets students where they are, and encourages peer support and learning. Reading aloud with expression, comprehension and storytelling skills are developed through our reading program.
Over the semester, children will gain confidence and speed, and grow into enthusiastic readers!
Students are required to take a 1 on 1 assessment before entering the course. They are expected to know all Set 1 sounds and be able to read Beginning Phonics level books with little assistance.
If you want to see all the excitement for yourself, please come by and experience classes you can't find anywhere else.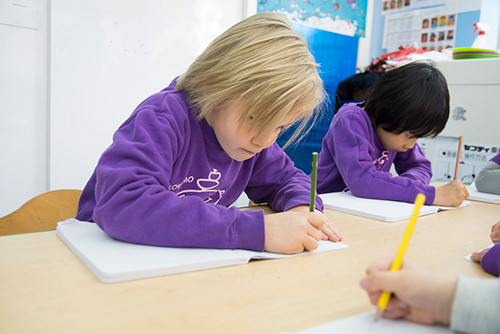 Book Club
Book club is a community-building experience that guides our budding readers to discuss books in a structured but informal setting. The meetings bring books to life with discussions, arts and crafts, and activities. "To learn to read well, all students need to read thought-provoking, age-appropriate books. They also need to respond thoughtfully to these books in talk, writing, and as they read other texts."
Raphael, Taffy E., Susan Florio-Ruane, and MariAnne George. "Book Club Plus: A Conceptual Framework to Literacy Instruction." Language Arts 79.2 (November 2001): 159-168. Accessed from readwritethink.org
Subsequent writing lessons will focus on expressive writing and grammar, turning descriptive sentences into paragraphs, essays and short stories. Weekly spelling and vocabulary lists, individual assessment, and homework for both reading and writing in partnership with these rich in-class activities will help students with prior English education or native-level ability to further academic and speaking skills.
Please enquire with us for more information!
Private Tutorials
All children entering Beginning Phonics or beyond take part in an initial one-to-one session for assessment and placement purposes. Subsequent private tutorials function as remedial help (catching students up to the class' pace), enrichment for additional challenge, homework help, and can offer a teaching style especially catered to your child's learning preference.
Students in private tutorials will need to purchase from K Space Read, Write Inc. materials and a notebook to bring weekly.
---
Resources & Materials
Our lessons, materials and training are sourced from several proven phonics methods.
Read, Write Inc.
Kspace's official kindergarten phonics curriculum is Read, Write Inc. a Ruth Miskin (UK) programme, well-suited for struggling and advanced readers alike, as well as native English speakers and EFL students. K Space's Beginning, Intermediate and Advanced courses use Read, Write Inc. materials and sequences to teach letters and sounds, and later reading and writing. Key elements of this phonics programme are routine, repetition, review, oral blending and a reliance on "sounding out." Sight words, high frequency words with non-phonetic spelling such as "the", are also taught.
Jolly Phonics
Jolly Phonics uses a multi-sensory and active approach to help children learn to read. The 42 letter-sounds in this programme are introduced through activities, songs, motions, formation and blending. The letters are divided into 7 levels and introduced by order of frequency so that children can start reading three letter words right away. The key advantage to the Jolly Phonics approach is that it teaches children to recognize all major sounds at an early age and shows them how to relate symbols to sounds.
Fitzroy Reader Series
The Fitzroy Reader Series is a provides an accessible approach to literacy, perfectly matched to our phonics curriculum. Each of the series' 60 progressively challenging books features a unique story that highlights a specific letter sound and a set of sight words.
Fitzroy books provide a good foundation for healthy reading habits. From the very start of the series an emphasis is placed on reading simple sentences. As the series progresses, children develop their vocabulary, grammar, sight words and spelling.
Book Lists
Amazon.com, Amazon.jp and Amazon.uk provide easy access to many English children's books. We hope you'll build a library at home for your child to enjoy. Not sure where to start? Here are some recommended book lists:
Required Materials
Students in our beginning, intermediate and advanced phonics courses, and book club purchase from K Space a notebook, a folder, reading material, a cute Kokomo pencil and a tote bag.
Private tutorial students purchase Read, Write Inc. one-to-one workbooks and a notebook from K Space.
---
Assessments
All children 3 and older joining upper level phonics courses will have an individual assessment to find the right course. Here is a rough guide to our leveling
Pre-Phonics
Beginning Phonics
familiarity with alphabet
letter/sound recognition for at least 5 letters
can recognize/read/write own name
Intermediate Phonics
letter/sound recognition of 90%+ of RWI Set 1 sounds
can read CVC words and blend sounds to make words
Advanced Phonics
letter/sound recognition for approximately 40 sounds
can write simple sentences with decodable spelling
can read Year 1 books
Book Club
Native-level speaker or current/former international school students
can write descriptive sentences
observing standard writing conventions
is beginning to read chapter books