TAP DANCE
Start Tap dancing now!
Our Tap Dance programme is taught by a professional dance teacher and performer, and offers several levels of instruction from beginners to advanced. Our aim is for children to work gradually through the levels. Classes run throughout the regular school terms and we invite you to try a lesson out at any time!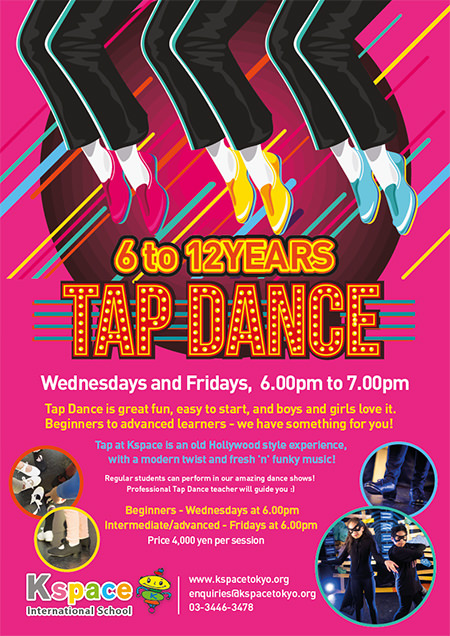 Children aged
6 to 12 years
Kspace organises amazing dance shows annually and our regular Tap Dance students love to have the chance to take the stage when they are ready!
Trial Class: ¥4,000 (pretax). Come and see us, meet the teacher and try out your very first class to see if you like it!
Tap-Shoes: Kspace has a small stock of tap-shoes (in select sizes)that can possibly be borrowed for your first class. Please tell us your size.
Clothing: Kspace T-shirt and anything else that you like. Children must wear comfy clothes that are suitable for dance and moving a lot!
Beginners Tap (Level 1)
Basic movements of Tap Dance are covered to provide a foundation and make students feel at ease. Our teacher works on simple, rhythmic steps. Students learn how to place hips, knees and feet. Initially we use simple sounds: Working on specific tap-techniques and a very small routine in each session, students will feel the fun of tap dancing from the very first class!
Enrollment: After your child's first class, we would love them to join! To learn Tap Dance it is necessary to come regularly to class in order to learn techniques, combinations and to build enough confidence. As soon as you master the program of level 1 you may move on to level 2 – anytime during the season. The most important thing is that you learn at your rhythm and have fun all the time!
Intermediate Tap (Level 2)
We start to work on turns and leaps; combinations with flaps and shuffles. Continous triplet-rhythms to establish clear and regular sounds: hop shuffle-step, step-shuffle-hop, step-shuffle step. Also the basic 2-3-3 Rhythms. Short routines to all kinds of music: from swing/jazz to techno!
Advanced Tap (Level 3)
All-style training for the stage!
Teacher
Steve Tomlinson
Steve is an extremely experienced and well-known dance teacher who is highly skilled in many different types of dance and performance art. He is a faculty member for the Austrian Ballet School and has been a performer and cast member in parades and shows for Disney, at the Magic Kingdom, Epcot Center and MGM Studios (Hollywood Studios). Steve is a long-term resident in Japan and he is a capable EFL teacher who is an English speaking native with Japanese ability.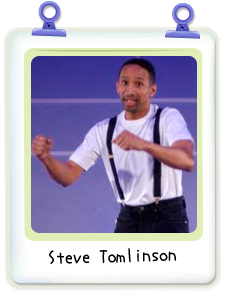 Fee
Please click here (see 'After School Guest Teacher' classes)
Class fees are dependent upon how many classes purchased. Some short courses require all classes to be paid/attended after the trial.
Discounts: Discounts available if your child attends other dance classes that are scheduled on the same day and buys blocks, and for students who commit to full courses. Dance classes can be combined with other classes in the 'Elementary Course' for 6 to 10 yr olds.
Please enquire for details.