Party children are hungry children!
Why not add the finishing touch to your child's wonderful party with professionally catered delicious food, and even a made-to-order cake?
Birthday Food
To offer flexibility and keep within your budget you can choose from two no-fuss options:
Option 1: Kokomo's Party Food Package: Professionally Catered Party Food!
: Sit back and let us do everything for you. The Kspace party team order food from our caterers and we add party snacks and drinks. Utensils are also provided.
Option 2: Self-catering
: Parents can bring in their own homemade or bought food, drinks and snacks.
Option 1: Easy Plan!
Kokomo's Party Food Package: Professionally Catered Party Food
We understand that modern parents are super busy! If you don't have time to arrange catering we can help. We will order party food, snacks and drinks. All you have to do is:

Choose 5 platters from the options below
Tell us in advance if there are any children with allergies
Complete a Catering Booking Form or just mail us your details
Note that party cakes/bday cake is not included in this fee package and is separate. Cup cake decorating and a candy floss (cotton candy) machine can be added as
optional extras.
Kokomo's Party Food Package:
Children's Food Platters for up to 20 children
¥60,000 - Select 5 platters
If you wish to amend to include healthy food platter e.g. veggie sticks please
ask for details.
An applicable amount of crisps (potato chips)
An applicable amount of fresh popcorn will be made from our fun popcorn maker! (If appropriate number of p​​arty staff are booked)
Drinks will be provided for each child
Sandwiches
Chicken Nuggets
Hot Dogs
Fruit Platter
Cheese & Pineapple
Mini Pizzas
Mini Fish 'n' Chips
Cake Platter
EXTRA ORDERS - Adult Platters or Finger Food
¥10,000 - per platter
Gourmet sandwiches
Sausage Rolls
Mini Quiches
Tandoori chicken skewers with yoghurt sauce
A selection of Greek dips served with vegetable sticks, crostini, Pita chips, olives, & feta cheese
Gumbo shrimp skewers with a Creole dipping sauce
Feta & roasted vegetables pizza
Salmon pinwheels
Seasonal fruit platter
A selection of cakes
What's Included in the Catering Package?
Food is delivered direct to Kspace on the party day
Utensils for each guest (white forks/spoons/children's knives)
Serviettes (plain white)
Plates (plain white)
Platters and rubbish/uneaten food disposed of by Kspace Party Team
What's Not Included?
Themed table wear/themed serviettes
Themed drinks cups/straws
Table cloths
How to Book
Simply complete the catering booking sheet or email your choice of platters or questions to
enquiries@kspacetokyo.org
Our Party Caterers
Kiwi Kitchen
All catered meals are provided by Kiwi Kitchen. Kiwi Kitchen has provided all catered school and party meals for us for over ten years. Our children and parents love them!
Option 2: Self-Catering
You can bring in your own homemade or bought food, drinks and snacks. You will be given access to the food room approx. 20-40 minutes before the party so that you can set up.
If you self-cater please also provide all your own cups, serviettes & napkins, eating utensils etc.

Notes:
Please do not bring into the school any nuts or nut products as we have enrolled students with fatal allergies and we have a complete ban on these foods inside the premises.
We don't have a fridge/freezer to store party food/drinks in for you unfortunately.
Alcohol: If you would like to bring in wine for non-driving guests please inform us in advance so that we can authorise this.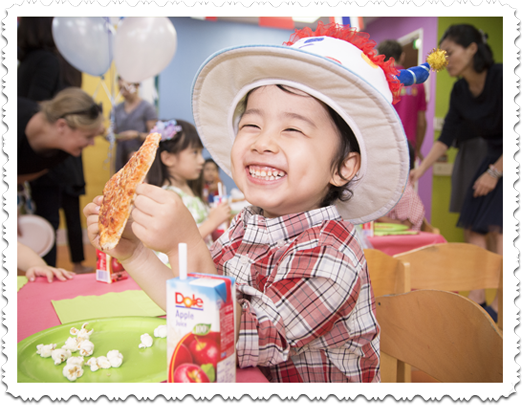 ---
BIRTHDAY CAKES
We have companies that we can refer you to or ask us about a cake order as a separate add-on to Kokomo's Party Food Package mentioned above