Mothers' Exercise Classes
On Thursdays
1.30pm to 2.30pm(Pre-Natal)
6.00pm to 7.00pm(Parent Classes with creche)
Class Descriptions
Parent Workouts with Creche!
Busy parents need to let off steam and it's often hard for find time or arrange for child care. Our 6.00pm to 7.00pm class with trainer Kristina covers all bases - enjoy an hour's worth of physical fun to make you feel energised and ready for rest of the evening and weekend.
Note about our creche: We accept children from 14 months to 10 years. Please enquire if you baby/child is younger than this. 

This is a multi-age group led by Kspace custodians. Table-top activities are supplied.
All children must have Kspace Membership.  
The postnatal class focuses on getting you back in shape, toning your body and loosing body fat (with appropriate dietary measures). This class format specifically works on issues caused by pregnancy and labor such as strengthening the pelvic floor and abdominal muscles and core, releasing lower back tension and working on proper posture ( which can suffer from breast feeding and taking care of young children), neck tension and shoulder and back strengthening.
Note about our creche: Please enquire if you have a baby/child that you need care for. This is a multi-age group led by Kspace custodians.
All babies/children must have Kspace Membership.
Prenatal Yoga Classes
Prenatal yoga classes are occasionally available and focus on balancing polarities within the body and proper alignment to make the body ready for pregnancy and birth. Prenatal yoga helps pregnant women to develop proper breathing and relaxation techniques for easier and more comfortable labor. It also helps with carpal tunnel syndrome, lower back and neck pain, nausea, improved sleep, increased strength, flexibility and endurance.
Teacher Profile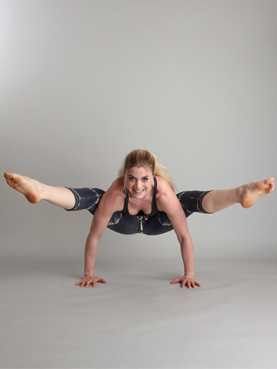 Kristina Dos Santos is a Fitness Professional, Personal Trainer, Group exercise Instructor, Yoga Teacher and Nutritionist from Germany.  She has been working in the fitness industry for 20 years and has lived and worked in Tokyo since 2002. Kristina teaches pre and post natal programs for Goldman Sachs employees and the expat community around Tokyo, and she is also popular with our Japanese families. She helps mums with all kind of backgrounds to increase their chances of a smooth and easy pregnancy and labour, and enjoys helping mums to get back in shape after baby is born.